Today's employment market requires a high level of flexibility.
The number of people employed on a temporary or contract hire basis continues to rise, especially with companies recognising the value of a flexible resource that can be increased or downsized at short notice according to workload.
Temporary Staffing Services are in demand for short-term and medium-term projects as a solution to the problem of lack of permanent personnel, or for assignments that last up to 9 months.
For instance:
Launch of the new project;
Extra staff is required for production necessity;
Extra staff is required to replace regular staff while they're away on vacation / long-term absence
The service is available for both National (Russian Federation) and Expatriate Staff.
The service is rendered within the Federal Law FZ #116 coming into force on 01.01.2016.
How do you benefit from Temporary Staffing Services?
Decrease the number of employees on your stafflist
Exempt expenses incurred through personnel recruitment
Exempt or decrease expenses incurred by employee redundancy
Engage new employees without signing a labor contract
Avoid forced outages in day-to-day operations
Decrease the scope of HR paperwork and related expenses
Considerably decrease the scope of administrative work, linked with managing business trips and social benefits
Considerably decrease payroll management expenses
Scope of work
Temporary Staffing Services – Expatriate, National, Third Country National Staff provision
Full International and Local Logistics Support
Local and Regional Support Infrastructure
Visa / Work Permits/ Registration/ Administration
Payroll processing
Global Tax Support and Compliance
Contract Compliance
Full Employer Liability Insurance Coverage
International Medical, Emergency Evacuation and Security Cover
Payroll & Taxation
MPH-CIFAL RUS provides a fast, reliable and accurate payroll processing service for both expatriate and national employees.
We have invested time and effort in developing our systems and infrastructure to allow us to accommodate:
Fast timesheet and business expense claim processing with a secure electronic payment notification option to check bank deposits in an instance
International tax and social security deductions and compliance
MPH-CIFAL RUS's financial team have extensive knowledge and experience of both local and international tax compliance issues. We also use a network of international tax advisers and consultants to support our operations to ensure complete tax compliance in all worldwide locations. We reduce the administration burden from both the Client and the Contractor to ensure:
Accurate and timely payments of tax and social security
International labour law compliance
Year end compliance with personal income tax liabilities, such as tax registration and filing.
Why should you pass payroll and tax processing to MPH Vostok?
We will save your time
We will enable you to focus on your core businesses
We will protect personal data of your employees
We will lower your costs and increase their transparency
We will assist you to increase the working procedures efficiency
We will ensure the same level of services for all your employees
We will relieve you from responsibility for payroll processing
We will respect your individual requirements
We will guarantee accurate and timely payroll processing in compliance with current legislation
We will take over risks and penalizations for erroneous payroll processing
Other beneficial items
Overall access to information and status
A single point of reference for all project related information and files
Transparency over status and completions of tax filings
Timely awareness of potential issues
Tailored reporting of tax attributes to help client management teams effectively manage tax on a local, regional or global basis.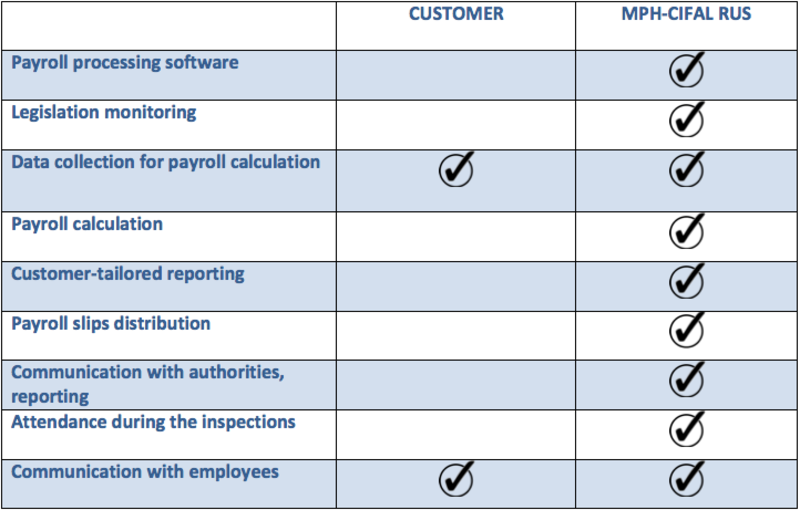 Contract Compliance
MPH Vostok contracts and commercial team have a vast range of contract experience and extensive knowledge of international legislative issues. This allows us to:
Take a pro-active approach during the employment of local personnel
Streamline the procurement process
Minimise commercial exposure for our Client's and personnel
Monitor contract values and notify Client in advance of NTE values
Ensure that employment contracts are in accordance with Client's terms and conditions
Enter into agreements effectively with sub-contractors, ensuring that our
Client's are not exposed commercially
Enter into Joint Venture Agreements effectively
Ensure full compliance with worldwide insurance requirements.
International logistics support
MPH Vostok can provide a door-to-door logistics solution tailored to meet any specific needs of our Clients:-
Pre-assignment medical examinations, inoculations and substance testing
Geo-Induction – Advice on local health and security issues
Work visa / Work Permit application, processing and issuing
Dedicated regional employee Service Managers
International travel services
Accommodation provision
Meet and greet and security provision
Medical evacuation and healthcare provision
Local transportation (car and driver, domestic flights)
In-transit logistics provisions
Organisation of training as required (Offshore survival, refresher courses)
In-country support network
A dedicated support team in each of our branch locations ensures that both Client's and employee's have access to a complete suite of facilities and support services throughout the duration of the assignment.
MPH Vostok have extensive experience in the implementation and adherence to local content and nationalization policies. Our direct exposure to locations where local compliance issues must be taken in to consideration across all levels of our operations has given us a unique understanding of the importance and sensitivity that must be placed on these initiatives.
HSE
Our policy is to maintain a safe and healthy working environment at all times.
Our goal is to prevent occupational accidents, injuries and illness, and to promote and practice Safety and Environmental policies in all areas of our business.
We recognise that the responsibility for employee safety and health requires constant and continued effort from management, workforce, contractors and clients.
MPH Vostok always strive to achieve zero accidents, zero incidents, less pollution and minimum waste. We strictly comply with all legal, mandatory and generally accepted work practices and procedures for the promotion of HSE standards.